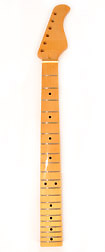 This one-piece maple guitar neck has a maple fingerboard, 21 frets, dot inlays, and fret markers.
Neck fits SX STL / Furrian guitars. May not fit Fender models exactly or SX Hawk models.
Body end of fretboard is flush with neck.
Neck is fitted with a truss rod.
Neck has vintage tint commonly found on SX, STL, or Furrian models.
SX logo is indicated on the headstock.

Measurements
Total length: 26 5/16"
Nut slot: 1 5/8" x 1/8" (plastic nut included)
Dimensions of the section that would fit into the neck pocket (heel): 2 1/8" wide x 13/16" deep (not counting the fingerboard)
Total length of heel: 3 3/4"
Rectangular section of heel: 3 1/2"
Diameter of pre-cut holes for tuners: 5/16"

Allen wrench not included. Plastic nut included may require filing to use.
---
Your final shipping costs will depend on your location and the items you order. To determine your total shipping cost, please click on the "add to shopping cart" button, and enter your address information. You will have the opportunity to cancel your order after you are quoted a shipping price.