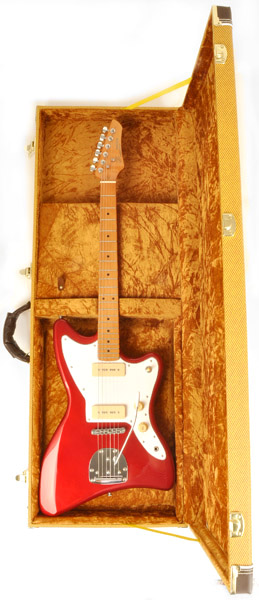 Protect your investment!
Heavy-duty case designed for the traveling musician on a budget
Provides a high degree of protection
Case is covered with a heavy duty simulated tweed (vinyl)
3 chrome latches, 1 with a lock
Carrying handle
Fits SX SJM and Liquid Guitars, Mosrite, and Fender Jaguar Guitar (not bass) and Jazzmaster
Will Fit Brian May guitar loosely (see photos - width is correct but case is a bit longer than needed in the body section).
Fits Eastwood Sidejack Baritone DLX
Compartment inside to hold straps, cables, picks, and other small accessories
Lightweight, yet remarkably strong
Interior Measurements:
Overall length: 43 1/4"
Width: 14"
Body compartment length: 20 1/4"
Body compartment width: 14"
Depth: 2 3/4"
Weight: 7 pounds