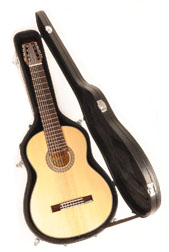 THIS B STOCK CASE has a tear in the tolex along the bottom exterior. Case still offers excellent protection for your instrument.
Made out of durable hard wood, covered with scratch resistant fabric, and carefully stitched to look fabulous
Solid latches and feet also help protect your valuable guitar
Handy storage compartment for accessories such as a strap, capo, strings, tuner, and picks
Features a key lock and thick protective padding for your instrument
Interior dimensions:
Overall length: 43 1/4"
Width of lower bout: 15"
Width of upper bout: 11 1/2"
Width of waist: 10 3/4"
Length of headstock: 10 1/4"
Width of headstock: 4 3/4"
Body length 23"
Depth: 5"
Fits extended scale classical guitars including the Renaissance 27" scale as well as most standard scale full size classical guitars (Will not fit most steel string guitars)