Tune-O-Matic bridge used in our popular Agile AL-2000 and 2500 series guitars
Also a good replacement bridge for the AL-3100MCC or 3200MCC if the player prefers steel saddles over graphite
6 mm stud size
Wide throw saddles allow for a wide variety of tunings
All steel construction
Package includes bridge only
---
Your final shipping costs will depend on your location and the items you order. To determine your total shipping cost, please click on the "add to shopping cart" button, and enter your address information. You will have the opportunity to cancel your order after you are quoted a shipping price.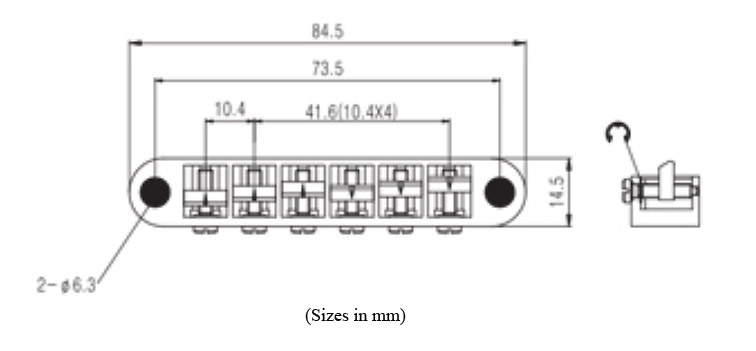 Customer Comments:
Hello, I just wanted to email you and commend you on the excellent service and the product! I saw this random video on youtube where a guy bought the Agile BM-003 bridge as a replacement for his LP copy. So I've had this Epi LP for many years and had this buzzing on the low E and could never get the intonation where I preferred it. Those stock bridges with that retaining wire is just not a good idea in my opinion. Anyway, your bridge was a DIRECT swap. The damn thing was pretty much intonated... just made a few minor turns and was good to go. I noticed a huge difference acoustically right off the bat. It was louder... and no buzzing! None! I've had this buzzing for years and it went away w/ a $9 product. Also, the wide throw on the saddles is perfect! Lastly, the feel is great as I noticed a difference in palm muting... it just feels more comfortable, stable and legit. Great quality! And for 9 bucks?!
I ordered this like last Sunday, received your email Monday morning and product arrived Wednesday morning. What great service! So thank you very much! As you can imagine it's nice when you can fix the one pain you've dealt with for years on your guitar. I appreciate it and will pass on the experience to those I know, for sure!
Thanks again!
Ron