Bass Ukulele!
Set up with the same notes as a full size bass guitar (E, A, D, G), this portable bass ukulele is a joy to play
The included preamp for amplified use is configured with knobs for bass, mid, and treble control and a slider volume control
Built-in chromatic tuner with LCD display
The installed Aquila Thundergut strings absorb less moisture to assure tuning stability and provide increased accuracy of fret-intonation
Rosewood fretboard
Entire body is crafted with mahogany wood
Now with rear access panel to make string changing easy

Measurements

Overall length: 29 3/4"
Scale length: 20"
Length of body: 14""
Thickness of body: 3 3/4"
Width of upper bout: 7 1/2"
Width of lower bout: 10 5/8"
Aquila Thunder Gut string size: .085, .105, .145, .185
Width of neck at the nut: 1 13/16"
Width of neck at the 9th fret: 2 1/8"
Thickness of neck at the nut: 11/16"
Thickness of neck at 9th fret: 7/8"
Sound hold diameter: 3"
Weight: only 4 pounds!

Customer Comments:

Wow,
I mean,
Wow!!!!!


I am so happy with my sweet new UKB20fh.
It is beautiful to look at, makes me smile to see it waiting for me, and makes me want to practice. Even with my huge fingers, I get a clear sweet tone, acoustically. Donít have an amp, but do have a little headphone plug in, so I can play along with my favorite songs.
Stuck in the apartment for months now, I was getting dangerously bored. Now I can pick up the bass guitar I put down 40 years ago, and learn to do it right this time.
The strings are kind to my soft fingertips, and when I play it right, I am truly impressed by the round punchy sound, and that deep cavernous E string.
This is just the first step for me, getting back into playing, which I did for six years, seriously, before joining the Navy and selling my Ď72 Fender PB when it was just 10 years old. I didnít know if would be worth a fortune! Dang it. It had a carrot colored case.
But now Iím back, practicing, learning,and playing with a mega boatload of online resources that I never had before.
Anyway, thank you ladies and gentlemen, SO much for getting me back into the music I love so much. Iím even writing a song for my lovely wife, who I begged for this bass. I couldnít buy it for myself, ícause weíre broke. So I told her that it was what I most wanted ( and I generally donít want anything but a smoke ). However, I could happily and gratefully accept this bass as a gift from her , to be returned with many kisses.
Thank You Endlessly! I could not be more thrilled to be playing bass again. ( I donít even think of this as a uke. Itís a friggin bass!)
Best,
Moe

PS. omg, the serial number ( minus the 4 and the Oís ) is both our wedding date and our daughterís birthday, who was born on our anniversary.
I wondered if it had a special number, so I looked, and holy smokes! I freaked out when I saw it. Yay Hadean and Rondo!!!! Thatís a sign! My new best friend.
Moe
North Padre Island

I've ordered a UkeBass a while back and I'm here to say it's wonderful. The grain and MOP is eye catching beautiful. The strings are great, they keep their tuning almost perfectly. And finally the tone. This is the only uke bass I had my hands on that did not have intonation problems. Well done. Sound is like a double bass and plays amazingly, gets everyone by surprise. Thank you.
Omeed Safdari

My wife bought me one of the Hadean bass Uke for Christmas, I have to tell you I LOVE THIS THING!!! we tried the Kala U Bass and I actually prefer this one, it has such a big sound to it when ran through a amp or PA, I played it live Sunday morning and the people's faces when the saw me with it was hysterical, I am 6'2" and about 270 pounds so you can imagine how small it looks on me, lol, then when I started to play their jaws dropped lol.. Thanks for carrying these THEY ARE GREAT!!! Thanks
John Russo

I am a huge ukulele fan, player & collector (15 ukes at last count, not including this one), but new to bass. I ordered this as a curiosity and could not be more pleased with it! Now I just have to get busy learning more about it! Don't hesitate! You will not be sorry you got this one!
Virgil Neil Passmore

This is a GREAT little instrument, Delivered promptly...plays well and sounds great!
John Reed

Can you play the bass? Then you can play this ukulele!

The strings are set up the same as a full size bass guitar (E, A, D, G).

Here are some handy tips to help you fully enjoy your bass ukulele:

There is a built-in chromatic tuner with an LCD display that indicates when your instrument is perfectly tuned. Strum a string and the note shows up on the display. If the meter is to the left you are flat. If the meter is to the right you are sharp. When the meter is in the middle the display turns green and you are in tune! Ta Daaaaa! When the strings are brand new, it is a good idea to gently stretch them just a bit. Tune the instrument, and then slightly tug on each string. Then retune. This will help your strings stay in tune longer.

There is a light that will turn red when your battery power is low. The bass ukulele uses two Lithium 3 volt batteries (CR-2032), and when the power becomes less than 6 volts, the red light will shine. Changing the batteries is easy. Just stick your fingernail in the battery compartment groove and pull to release the case that holds the batteries. When you put the new batteries in, have them both with the positive side up. (The positive side is the side with writing on it.) Then snap it back into place and you are ready to play!

It is worthy to note that when you plug a jack into the output, it activates the battery. Thus if you leave your instrument with the jack plugged in, the battery will drain unnecessarily.

Some people ask advice on where to adjust the bass, middle, and treble knobs. It really is a matter of personal preference. Play with it and see what you like. Since it is technically a bass ukulele, to make it sing like a bass we suggest adjusting the bass knob higher (around 2:00 if you are comparing the knob to the face of a clock), the middle knob in the middle (noon), and the treble knob lower (around 9:00). But you know what sounds right Ė just experiment and discover what the best zones are for you.

One last tip Ė if you have just eaten fried chicken, for goodness sake wash your hands before touching your instrument! Donít get the strings all sticky or gooey with remnants of food! The strings will last longer and your instrument will love you more if you respect it and keep it clean. If you want that nice slippery feeling when hitting those notes along the fretboard, you could even put a little bit of talcum powder on your fingers to help them slide faster.

Rock on!
Recommended Add-Ons
21.95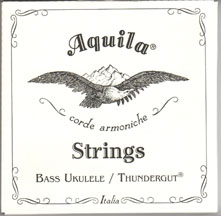 29.95
On Sale!