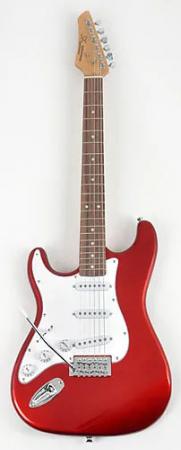 This B stock item has a 1/8" crack in the finish on the treble side of the neck pocket. There is also a 1/4" dent on the back of the body near the tremolo plate. Cracks are finish deep only and neck is stable. Includes guitar and bag only.
A great guitar for your young beginner! This scaled down, 3/4 size guitar is about 3" shorter and 2" more narrow than a full size guitar. It is excellent for a person who is between 4'2" and 4'10", or for a larger person who just wants a smaller instrument (for perhaps when one travels). People with back issues also enjoy this light weight guitar.
Solid basswood body. (The solid basswood provides superior sound. Many guitars in this price range that are sold by other vendors often contain plywood.)
Dual cutaway allows access to the highest frets.
Die cast chrome tuners.
The body is contoured for hours of comfortable play.
Three powerful single coil pickups, one volume control, two tone controls, plus a five position pickup selector switch let you create an incredible range of sounds.
Vintage fulcrum bridge with six adjustable saddles. (The fulcrum bridge has a tremolo bar, which allows you to make some awesome sound effects. The 6 adjustable saddles adjust string height, radius, and intonation.)
Truss rod adjustable maple neck! (A truss rod is an adjustable neck reinforcement designed to resist the forward bending force of the high tension of steel strings, and is found in the finest of electric guitars.)
Rosewood fretboard, 21 jumbo frets.