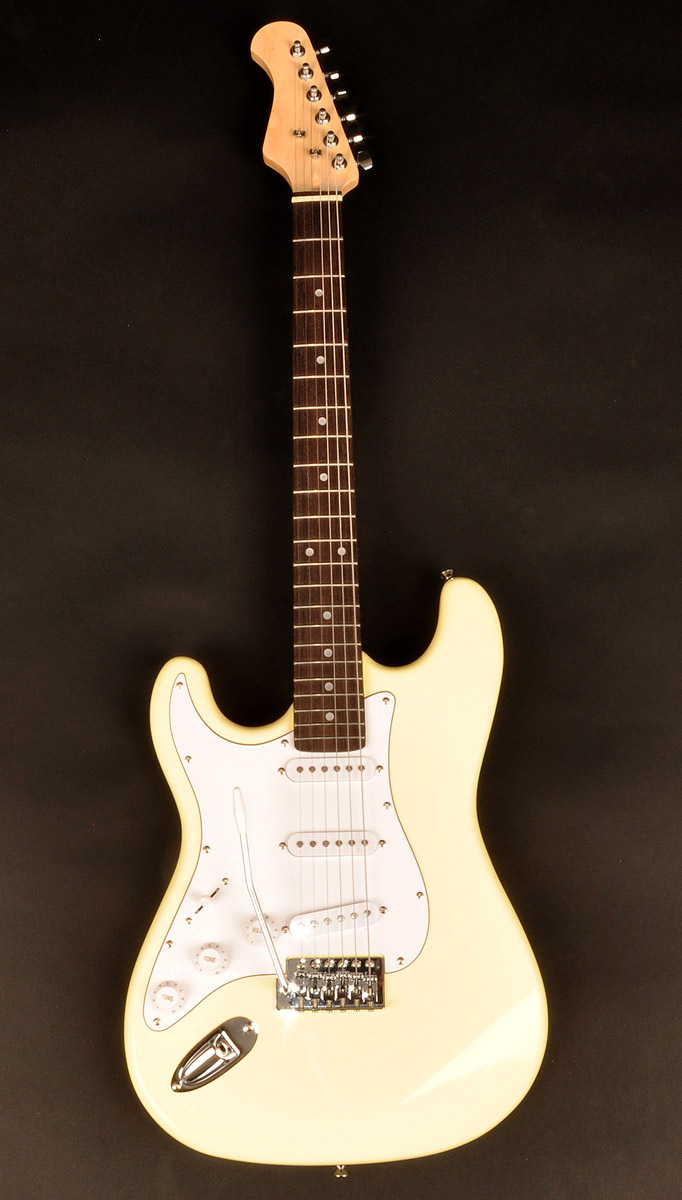 An Amazingly Priced Electric Guitar with All the Features You'll Need!
Advanced Order: Target Ship Date for this guitar is May 25, 2022. Actual ship date may vary.
Easy to play electric guitar, perfect for the beginner or intermediate player.
Solid basswood body for that great rock-n-roll sound. (Many guitars in this price range sold by other vendors often contain plywood.)
Three powerful single coil pickups, one volume control, two tone controls, plus a five position pickup selector switch let you create an incredible range of sounds!
Beautiful maple neck with adjustable truss rod. (A truss rod is an adjustable neck reinforcement designed to resist the forward bending force of the high tension of steel strings, and is found in the finest of electric guitars.)
Ultra-fast rosewood fretboard
Vintage fulcrum bridge has a tremolo bar, which allows you to make some awesome sound effects.
The 6 adjustable saddles adjust string height, radius, and intonation.
Three-ply pickguard (white, black, white).
D'Addario strings are installed at the factory.
Measurements:
Overall length, including strap button: 39 1/2"
Scale length: 25 1/2"
Body length: 18 1/4"
Width at the widest point: 12 3/4"
Width of the neck at the nut: 1 5/8"
Width of the neck at the 22nd fret: 2 1/4"
Body thickness: 1 3/4"
Neck taper (thickness)at the first fret: 13/16"
Neck taper (thickness) at the twelfth fret: 15/16"
Neck radius: 12"
Peg hole diameter: 3/8"
String spacing at the nut: 5/16"
String spacing at the bridge: 7/16"
Weight: only 7 pounds!
---
Your final shipping cost will depend on your location and the items you order. To determine your total shipping cost, please click on the "add to shopping cart" button, and enter your address information. You will have the opportunity to cancel your order after you are quoted a shipping price.