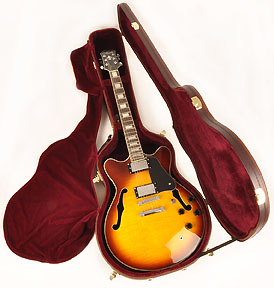 Great protection for your investment!
Advanced Order: This item is currently in high demand. The target ship date for orders placed today is September 30, 2022. Actual ship date may vary. Rondo Music recommends ordering prior to the target ship date as this item often sells out well in advance.
This Douglas arch top case is made of durable hard wood and covered with a carefully stitched, scratch resistant vinyl
This premium model case feature a strong (6 ply) arched top and thick padding (18mm) to offer superior protection and snug fit for your instrument
Chrome latches and feet also help protect your valuable guitar and present an A+ appearance
Well padded with a plush lining
Features a handy storage compartment for accessories such as a strap, capo, strings, tuner, and picks
Key lock

Case will fit Gibson / Epiphone ES-339 and Casino Coupe, guitars and the Agile AS-2000
Interior Dimensions:
Overall Length: 41 1/4" Overall Width (lower bout) 14" Width upper bout 9 3/4" Overall Depth (with top closed) 4" Storage pouch 8" x 4" Neck area 10" x 5 1/2"