Bridge for SX STL, Furrian guitars, and similiar models
3 height adjustable and intonatable saddles
Mounting screws and springs included
Allen wrench for adjusting saddle height included

Dimensions shown are in mm. Screw hole pattern does not match Furrians that have 6 saddles.
---
Your final shipping costs will depend on your location and the items you order. To determine your total shipping cost, please click on the "add to shopping cart" button, and enter your address information. You will have the opportunity to cancel your order after you are quoted a shipping price.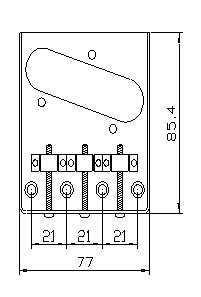 $9.99