Impressive Looks! Impressive Sound!

Agathis double cutaway arch-top body with a stunning real Maple Top that must be seen to be believed
New Die-cast Grover tuners with 18-1 ratio for fine tuning
Neck binding
High quality wax potted humbucker pickups help reduce hum and noise and offer superior performance by giving a thicker fuller sound than single coils
Humbuckers also create a much larger magnetic field, which helps eliminate dead spots and increases overall power of the pickup
One volume and one tone control tailor your sound
The E1 has a 22 fret Maple bolt on neck with Rosewood fretboard
The angled headstock helps increase the tension of the string on the nut and therefore helps transfer string vibration to the guitar for superior sustain
Stop Bar Tailpiece also help transfer string vibration to the body for great sound
Solid chrome hardware
Width of the neck at the nut: 1 5/8"
Overall length 36.5"; Scale length: 24.7"
Width at the widest point: 13.5"
Actual Weight is only 8 lbs
---

Guitar ships new in a double box. Note, this item is "UPS oversize" and ships as if it weighs 30 lbs. Actual weight is only 8 lbs.
---
Your final shipping costs will depend on your location and the items you order. To determine your total shipping cost, please click on the "add to shopping cart" button, and enter your address information. You will have the opportunity to cancel your order after you are quoted a shipping price.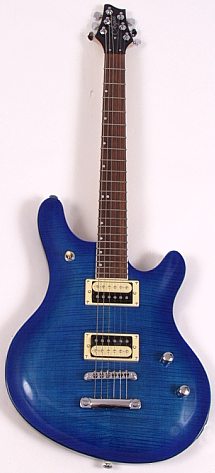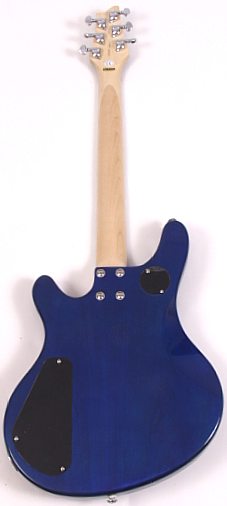 Above is Blue Flame
I just wanted to say thank you for such a great instrument. My wife purchased an Agile E1 as a Christmas gift for me, Last year we bought my son the Douglas SIV-45. The E1 arrived absolutely gorgeous, and believe it or not it was just about still in tune from what I imagine was your store setting it up. It did have a minor big E string buzz but I fixed that in a matter of minutes. The guitar plays like dream,and I still cant believe it was so inexpensive. My other guitar is a Schecter C1+FR (Floyd Rose) and let me tell you this guitar is definaltely of equal quality...for 1/3 of the price. Thank you for providing such quality instruments at such a wonderful price, this guitar will be with me forever.
Jim Vertrees 12/26/2005
$159.99