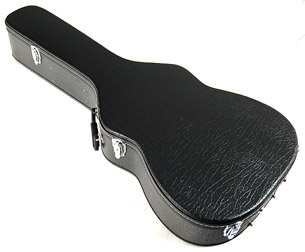 Your Dreadnought Guitar deserves a great case!
Douglas cases are made of durable hard wood and covered with scratch resistant fabric, and are carefully stitched to create a gorgeous presentation!
Chrome latches and feet also help protect your valuable guitar and present an A+ appearance!
Well padded with a plush lining, and feature a handy storage compartment for accessories such as a strap, capo, strings, tuner, picks, or small sized effect or effects!
Douglas cases feature a key lock and thick protective padding for your instrument!
Interior Dimensions DGC-200: Length: 42 1/2",x Depth: 6 1/2", x Width at its widest point:16 1/4
Body length: 20 1/2" Upper bout: 12" Lower Bout: 16 1/4"
Fits most dreadnought guitars including Agile HRB-200 (including 12 string), SX GG7, Fender DG, Yamaha FG etc!