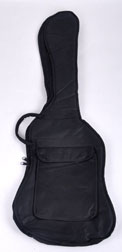 Great Protection for Your Investment!
This guitar bag features more padding than our lightweight electric guitar bag
Made from tough nylon with 10 mm padding to protect your instrument
Includes adjustable sling for carrying over left or right shoulder
Includes an accessory pouch for carrying music, strings, etc.
Fits SX Ursa 1 3/4, Ursa 2 3/4, Ursa 3 3/4, and most other 3/4 size basses
Overall length 42" Width 12"
Bag logo may be "SX", "CNB" or none