A Great Medium Scale Bass for the Left Handed Young Beginner!

Package includes bass guitar, and carry bag
Slightly reduced scale/size improves ease of play for someone with smaller hands or for a person wanting a light weight instrument - yet the guitar still gives the appearance of a full size instrument
Left handed bridge and nut installed
Solid basswood body creates an authentic vintage sound
Dual cutaway body provides access to the upper frets
Contoured back for hours of comfortable play
Bolt-on maple neck with adjustable truss rod
Rosewood fretboard with 20 jumbo frets
High output "PJ" style pickups with two volume controls and one tone control
The design of the neck and fully adjustable traditional bridge provide superior action making this bass very easy to play

Measurements

Overall length: 43 1/2"
Scale length: 32"
Width of the lower bout: 12 1/4"
Width of the upper bout: 11"
Width of the neck at the nut: 1 1/2"
String spacing at the bridge: 11/16"
Fret board radius: 12"
Weight: only 8 pounds
---
Your final shipping costs will depend on your location and the items you order. To determine your total shipping cost, please click on the "add to shopping cart" button, and enter your address information. You will have the opportunity to cancel your order after you are quoted a shipping price.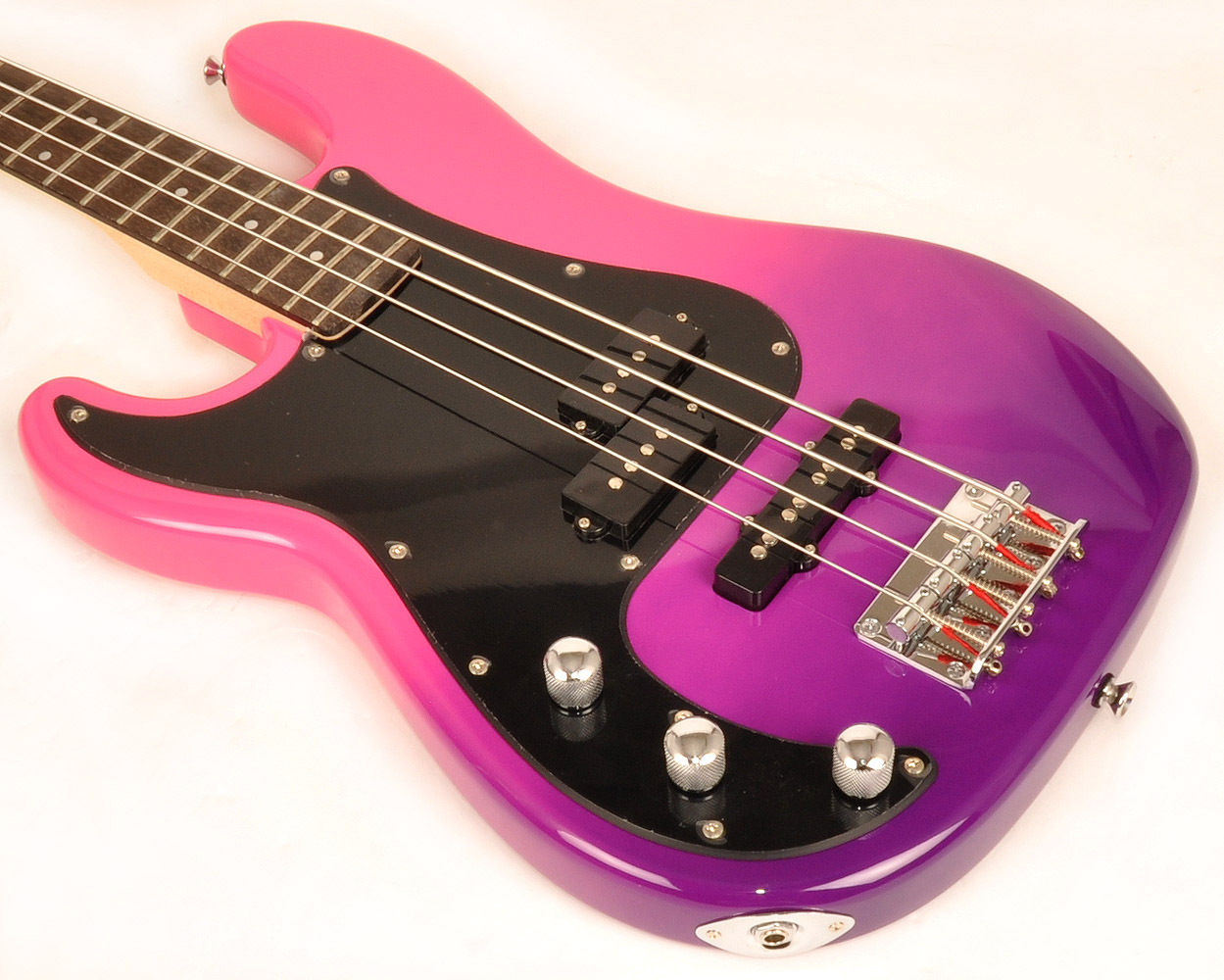 Customer Comments: I play Bass guitar and for the last 20 years have collected many styles from various manufactures to assess quality and function, and use on stage. Many of the Bass guitars I own are priced from $100 to $1500, and were all bought new from distributors like Amazon, Guitar Center, MusiciansFriend, etc. There are several manufactures on the market today that offer low priced guitars and compete very well with name brands such as Fender, Yamaha, Ibanez, Squire, etc. One such manufacturer is a custom distributor that sells high quality inexpensive Guitars - Rondo Music. This Bass guitar from Rondo is from the SX Series, and the quality of the Bass is outstanding. This is my second SX GB Rose Bass Guitar from Rondo, and I am very impressed with everything about this small scale bass. First, the paint finish on the Bass guitar is awesome. I have yet to find a blemish on the body or headstock. The volume/tone pots and pickups are high quality electronics and do a great job capturing the strings, especially at the high end. Played through a Marshall Bass Amp this baby sounds fantastic. The chrome tuners are good quality and keep the Bass in tune even after hours of playing. The neck finish is perfect, the fretboard and frets are properly set to reduce any buzzing of strings. The bridge is fully adjustable and allows additional setup depending on the players choice. The weight of the Bass is well balanced, does not dip when using a strap, and the body contoured for comfort.
For the price you cannot go wrong with this SX Bass guitar. There are other well known manufacturers of Bass guitars in the $200 range that cannot compete with this beauty.
Thank you Rondo! By MicNat (on amazon)