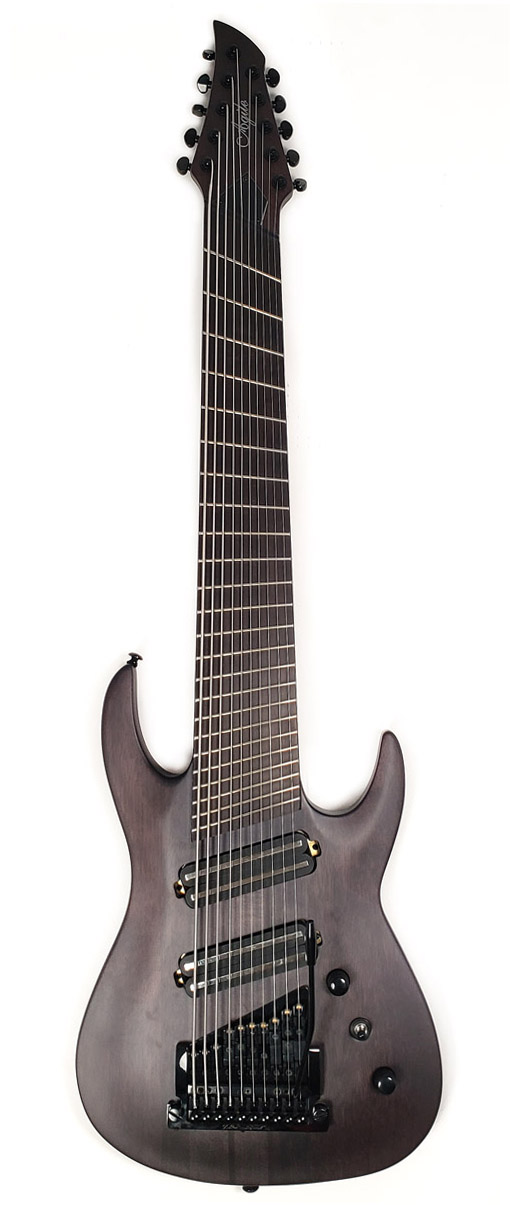 The Agile Pendulum Multi-Scale Guitar - now available in a 10 string version!
Advanced Order: Target Ship Date for this guitar is Dec 21, 2020. Actual ship date may vary.
Multi-scale design with scale range of 27" to 30"
Angled nut and pickup for improved intonation and sound
5 piece neck-through design crafted with maple and walnut
Angled Cepheus 11 passive pickup
Made in USA Custom Kahler 72210 KX 10 string multi scale bridge, designed by Gary Kahler for Agile guitars
Mahogany body
Ebony fretboard with no markers - position markers are located on the side of the neck
24 extra jumbo 2.9 mm frets and a 13.7" (350 mm) radius neck for fast play
Grover die cast tuners
Measurements
Overall length, including the strap button: 41"
Width of the neck at the nut: 2 3/4"
Width of the neck at the 12th fret: 3 1/4"
Width of the neck at the 24th fret: 3 1/2"
Uniform neck profile - for ultra fast playing: 21.5 mm at the first fret and 22 mm at the 12th fret
Radius: 15"
Pickup dimensions: 5" x 1 1/2"
String gauges: .009, .012, .015, .022, .030, .040, .054, .074, .090, 110
Guitar is set up to tune as a bass on the lower 4 strings (E, A, D, G), followed by the standard 6 string guitar turning on the upper 6 strings (E, A, D, G, B, E) - however a variety of tunings is possible
Weight: only 12 pounds