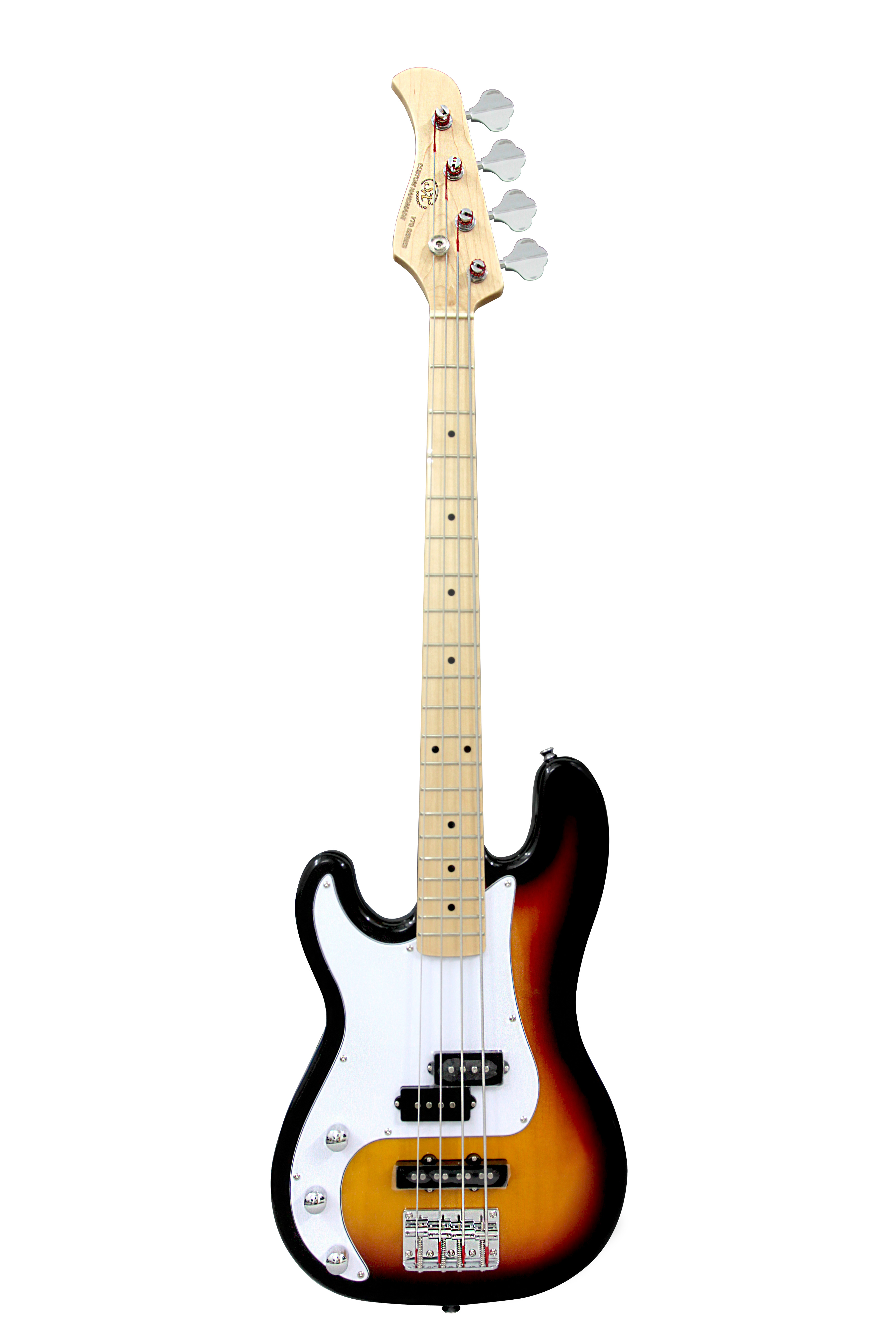 NEW!! A Short Scale Ursa 3 by customer request!
Great for the player that requires a smaller, more comfortable bass!
Padded carry bag included
This bass has a 30" scale length; that's 4 inches shorter than a normal size bass, making it an excellent starter bass for a young beginner. It is ideal for a person who is between 4'2" and 4'10", or for a larger person who just wants a smaller instrument (for perhaps when one travels). People with back issues also enjoy this light weight bass.
Solid alder body creates an authentic vintage sound! (Many guitars in this price range that are sold by other vendors often contain plywood.)
Dual cutaway body provides access to the upper frets.
Contoured back for hours of comfortable play.
Bolt-on maple neck with adjustable truss rod! (A truss rod is an adjustable neck reinforcement designed to resist the forward bending force of the high tension of steel strings, and is found in the finest of electric basses.)
Maple fretboard with 20 jumbo frets.
High output "PJ" style pickups with two volume controls and one tone control.
The design of the neck and fully adjustable traditional bridge provide superior action, making this bass very easy to play!
Measurements
Full length, including strap button: 43"
Scale length: 30"
Width at its widest point: 12"
Width of the neck at the nut: 1 1/2"
Width of the neck at the 12th fret 2 1/32"
Width of the neck at the 20th fret: 2 1/4"
Thickness at the nut 13/16"
Thickness at the 12th fret 7/8"
String spacing at the nut 3/8": (overall 1 1/8")
String spacing at the bridge: 3/4" (overall 2 1/4")
String gauges: .045, .065, .080 and .100.
Weight: + / - 9 lbs.
Neck Pickup 2 1/4" x 1 1/16"
Bridge pickup 3 5/8" x 3/4" (1 1/8 to screw cutouts)