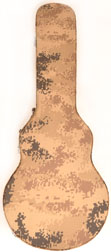 Camouflage Gives This Case a Unique Look!
Features a strong (6 ply) arched top and thick padding (18mm) to offer superior protection and snug fit for your instrument
Made of durable hard wood and covered with scratch resistant fabric, and are carefully stitched to create a gorgeous presentation
Chrome latches and feet also help protect your valuable guitar and present an A+ appearance
Inside, they are well padded with a plush lining, and feature a handy storage compartment for accessories such as a strap, capo, strings, tuner, picks, or small sized effect or effects
Features a key lock
Case will fit Agile AL- 3010SE/3100/3200 series guitars including 12 string models; AD-3200 series guitars (including left handed); as well as Gibson and Epiphone LP Guitars
Final production run on this case. Once these are sold that's it.

Measurements:
Length: 41"
Width at the lower bout: 13 1/4"
Width at the headstock: 5"
Depth: 6"
Weight: 4 pounds