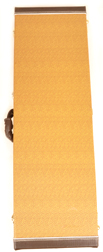 Great Protection for your Investment!
This wide version of the EGC-200 Baritone case is made for guitars with wider necks such as the 8,9 and 10 string Septor models.
Fits Fender Fender Jaguar short scale (30" scale) bass (see photos)
Fits Gretsch Junior Jet bass (see photo)
Made of durable hard wood, covered with scratch resistant simulated tweed, and carefully stitched to create a gorgeous presentation
Chrome latches and feet also help protect your valuable guitar and present an A+ appearance
Well padded black interior with a plush lining
Handy storage compartment for accessories such as a strap, capo, strings, tuner, picks, or small sized effects
Key lock
Case will fit Agile Septor and Interceptor 27", 28", and 30" scale models
Interior measurements:
Full length: 44 1/2"
Body length: 18"
Headstock length: 15"
Width: 13"