Solid alder body for that great rock-n-roll sound! (The solid alder wood provides superior sound. Many guitars in this price range that are sold by other vendors often contain plywood.)
Two single coil p90s, one volume control, one tone control, plus a 3 way pickup selector switch let you create an incredible range of sounds.
Beautiful maple neck with adjustable truss rod! (A truss rod is an adjustable neck reinforcement designed to resist the forward bending force of the high tension of steel strings, and is found in the finest of electric guitars.)
Ultra-fast rosewood fretboard with 22 jumbo frets!
Stop-Bar tailpiece! This provides a greater transfer of the sting's vibrational energy to the guitar body, creates a richer tone and better sustain, and it helps the guitar stay in tune!
Three-ply pickguard (White, Black, White).
D'Addario strings are installed at the factory.

Measurements

Overall length, including the strap button: 39"
Scale length: 25.5"
Body length: 20"
Width of the upper bout: 11 1/2"
Width of the lower bout: 14 1/2"
Width of waist: 9"
Width of the neck at the nut: 1 5/8"
Width of the neck at the 22nd fret: 2 1/8"
Weight: only 8.5 lbs!

Nick Curran in concert with the Fabulous Thunderbirds on HDNET :

"When plugged into an amp, I was somewhat shocked by how good it sounded. I expected some weenie sounding pickups but was treated instead to a full, rich sound that came darn close to real-deal P90s. Impressive! I could not put it down! Will Ray, May 2008 Guitar Player Magazine.
---

Guitar ships new in a double box. Note, this item is "UPS oversize" and ships as if it weighs 30 lbs. Actual weight is only 8.5 lbs.
---
Your final shipping costs will depend on your location and the items you order. To determine your total shipping cost, please click on the "add to shopping cart" button, and enter your address information. You will have the opportunity to cancel your order after you are quoted a shipping price.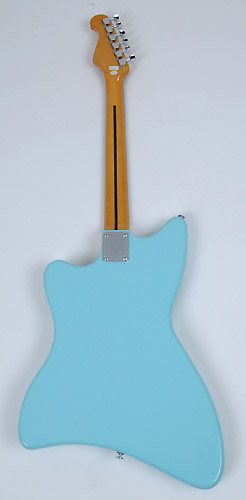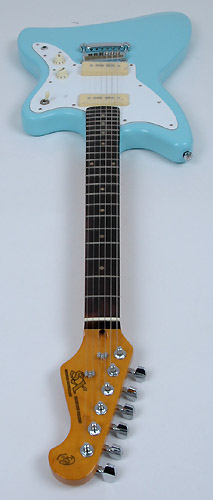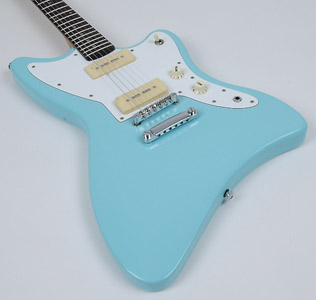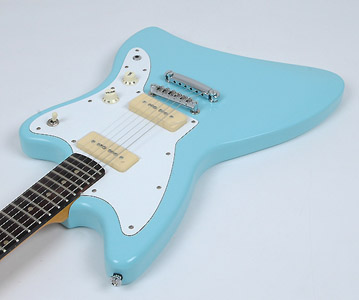 Customer Comments:
My compliments to the design team, the craftsmen and the Rondo Staff for making this fine guitar. The features are an outstanding combination, and not very common I might add. Very tradional, with aggressive P-90 tone! Perfect for my style of playing. Plus the shape and Style is a work of Retro Art genius.
The recent flurry of activity on the Fender Discussion Page about your guitar offerings caught my attention, and I've voiced my satisfaction all over that Forum. Thanx, > > > > John Fisher