12 Pair of Professional Maple Drum Sticks at one of the lowest prices on the web! They have the perfect combination of balance, response, and feel!

12 pairs of maple wood-tip drum sticks.
The maple has a fine grain pattern which produces a light, fast playing sound with a great amount of flex. Ideal for orchestral work, rock, band, and light jazz.
Size 7a wood tip.
All-maple wood construction. (Sticks that are made with a composite fiber or metal can be hard on the player's wrists and arms, which can lead to sore muscles.)
Measures 15 1/2" x 3 1/2" x 2 1/2". The long taper in the shaft makes it excellent for rebound and speed.
---
Your final shipping costs will depend on your location and the items you order. To determine your total shipping cost, please click on the "add to shopping cart" button, and enter your address information. You will have the opportunity to cancel your order after you are quoted a shipping price.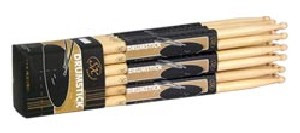 $15.99 $12.95 On Sale!