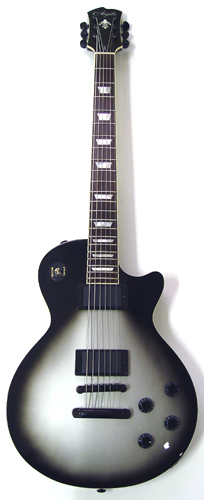 The 2800 - Now available in a 27" Scale Baritone Verion!
Achieve the low tones todays modern hard rock and metal demands with this new baritone guitar from Agile!
New AL-Hot High Output Ceramic Pickups
Uniform Neck Profile - For ultra fast playing - 21.5mm at the frest fret and 22mm at the 12th fret.
graphite nut
Hand filed frets (vs machine filed on the 2500), for professional feel and playability
Full body, neck and headstock binding
Die-cast Grover tuners with 18-1 ratio for ultra fine tuning
Jumbo 2.7mm frets and a 13.7" (350mm) radius neck for fast play
22 fret maple set neck with Rosewood fretboard with block inlays
Two volume and two tone controls, plus a three way pickup selector switch
Width of the neck at the nut: 1 5/8"; at the 21st fret: 2 3/16"
Overall length 42 1/2"; Scale length: 27".
Body thickness 2" at edge; Width at the widest point: 13"
Bridge pole spacing is 3", and the Tail piece pole spacing is 3 1/4"
Actual Weight is only 10 lbs
Pickup spec: Magnet: Ceramic, Coil 42awg (.063mm)
Neck: Inductance: 4.85 Henrys, DC Resistance: 7.8k ohms Turns 5,550
Bridge: Inductance 8.7 Henrys DC Resistance: 8.7k ohms Turns 6,050