Special note: Total price of this item is $745 plus shipping. After leaving your deposit, your balance will be $370. Balance will be due when item is ready to ship. Target ship date is the end of May 2011 .

9 String Guitar with Ash Body
1 piece bolt on neck
Cepheus 9 passive pickup with master volume. Cavity has been routed large enough to accommodate additional electronics
No inlays on the neck. Position markers on the side of the neck only
24 Jumbo Frets
Maple Neck with 15" radius. Width 2 1/2" at the nut 3 1/8" at the 12th fret and 3 3/8" at the 24th fret
String Spacing at the bridge: 7/16"
Neck profile (thickness): 7/8" at the nut 15/16" at the 12th fret
Scale Length: 30" Overall length: 44 1/2"
Weight: Approx. 9.5 lbs
String through body
Die-cast Grover sealed tuners model GH305-18 with 18-1 ratio for fine tuning
Graphite Nut
Satin Polyurethane Finish
String gauges: .009, .012, .015, .022, .030, .040, .054, .074 .090
Guitar is setup to tune as a bass on the lower 2 strings (E, A). Then with standard 7 string guitar turning on the upper 6 strings (B, E, A, D, G, B, E). However a variety of tunings is possible.
---
Your final shipping costs will depend on your location and the items you order. To determine your total shipping cost, please click on the "add to shopping cart" button, and enter your address information. You will have the opportunity to cancel your order after you are quoted a shipping price.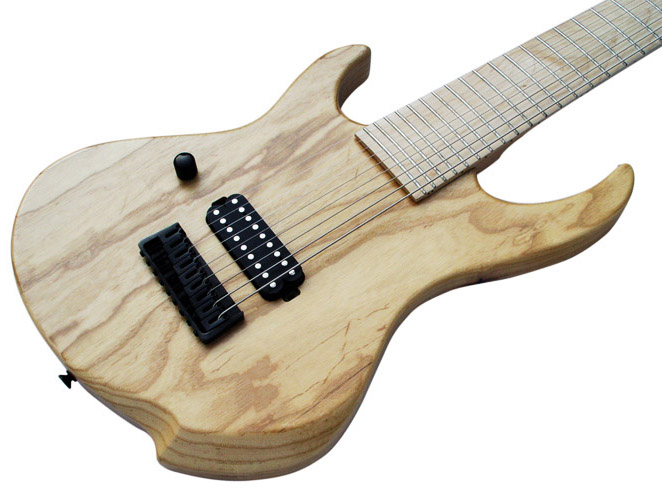 $375.00