A 35" Scale 8-String bass!

A slim line, dual cutaway, contoured solid Alder body with headstock that matches the finish
Figured Natural Bubinga finish
The bridge design gives you the option of String-thru-bridge or String-thru-body design for maximum attack and sustain
Active MM Style and J Style pickups with active/passive pull tap, bass, treble, balance and volume controls
Separate battery compartment lets you change batteries quickly
Bolt on Maple neck with adjustable truss rod and 5-bolts for incredible stability
Rosewood fingerboard with Abalone position markers
Brass Nut
Chrome die-cast hardware
Scale length is 35"
Width of the neck at the nut: 1 6/8" at the 24st fret: 2 5/8"
Overall length: 47" including the strap button
Actual Weight is only lbs 10 lbs
Main string Gauges 045, 065, 080, 105 Octave Strings: 016, 024, 032, 042.
---
Your final shipping costs will depend on your location and the items you order. To determine your total shipping cost, please click on the "add to shopping cart" button, and enter your address information. You will have the opportunity to cancel your order after you are quoted a shipping price.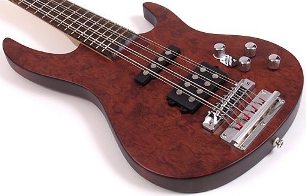 Wow, I got my Brice 8 string Yesterday, And I am in love!!!!! The workmanship on this Bass is outstanding. Id expect this kind of work on a Bass costing 3 or 4 Times what I paid, This Blows away a 12 string Bass I owned some time back by a brand name company!!!!!
I got it yesterday and got so lost into it that I forgot to send a thank you, to you and The rest of Rondos staff for a excellant product, Fast promp service, Once you got my cashiers Check the Bass was sent out that day!!! Yes It does need a few intonation tweaks but that is to be expected anytime you ship a guitar.
But Kurt shes a Keeper that bass just feels so right in my hands!!!
All my Thanks,
Jay Derks. 3-10-2005 Oh And I will be back for a second Guitar when Im ready!!!!!!
$339.95