This new 5-string bass features many upgrades suggested by our customers!

35" scale length
Dual cutaway, contoured, solid alder body
Headstock matches body
Highly figured bubinga top
String-through bridge design for maximum attack and sustain
Active pickups with active/passive pull tap, bass, treble, balance, and volume controls
Separate battery compartment lets you change batteries quickly
Bolt-on maple neck with 6-bolts for excellent stability
Rosewood fingerboard features positon markers on side of neck
Adjustable truss rod
All black die-cast hardware for an incredible look

Measurements

Overall length, not including the strap button: 44 1/2"
Scale length: 35"
Width of body at the lower bout: 12 5/8"
Thickness of body at the strap button: 1 3/4"
Width of the neck at the nut: 1 3/4"
Width of the neck at the 24th fret: 2 3/4"
Neck profile (thickness) at first fret: 13/16"
Neck profile (thickness) at 12th fret: 15/16"
Pickups: 4" x 1 1/2"
String spacing at the bridge: 16 mm
String gauges: .030, .045, .080, .100, .125
Weight: only 9 pounds

We recommend a case with this item!
---
Your final shipping cost will depend on your location and the items you order. To determine your total shipping cost, please click on the "add to shopping cart" button, and enter your address information. You will have the opportunity to cancel your order after you are quoted a shipping price.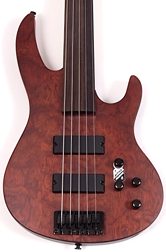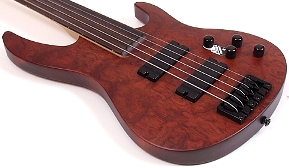 Customer Comments: I received my Brice HXB 405 Bubinga Fretless Bass today. After inspecting it thoroughly and finding zero issues at all, I tuned it and started to play it. Three hours later, I am still playing it, and am absolutely amazed at the sound, playability, and appearance. The intonation needs to be zeroed-in to agree precisely with the neck side position dots, is all it needs. The pickups and preamp are dead quiet and sound great. The bass is comfortable on the lap, and balances well. The 35" scale length feels very natural, and makes the low B and E string ring beautifully. I haven't found a dead spot anywhere on the neck. This bass sounds better than my Conklin GT-7, and plays just as easily. With a major brand name on the headstock, you could sell this bass for $800.00 with no trouble at all. This is my third Rondo Music instrument, and all have been worth at least twice what you charged. Thank you!!! Lawrence G. Poconos, PA
$349.95