SOLID 3/4"+ MAPLE CAP!

3/4" thick maple cap improves overall sound quality (increases brightness of the guitar)
The Maple cap sits over the 1 1/2" 2 piece solid Mahogany body with natural maple binding (yes even the black guitar has the maple cap)
Natural maple bound body, and headstock
Improved Nickel plate hardware, including Nickel die-cast Grover tuners with 18-1 turning ratio for ultra fine tuning (Model 102-18N)
Two Type V Alnico humbucker pickups for warm, tradional sound
The AL-3000 now comes with improved wiring (single conductor braided 18 gauge American wire for pickups), improved pots (now higher voltage with brass shafts for reduced noise) and an improved pickup selector switch
Two volume and two tone controls, plus a three way pickup selector switch
One piece Mahogany set neck with 13.7" (350mm) radius neck for fast play and adjustable truss rod
Ebony fretboard with 22 Jumbo frets and real Abalone Trapezodial inlays
The AL-3000 features GHS strings installed at the factory and a professionally cut bone nut
A pre-cut graphite nut is also included in the bag with the trus rod adjuster for those who prefer graphite
Individually hand filed frets for professional feel and playability
Width of the neck at the nut: 1 5/8"; at the 21st fret: 2 3/16"
Neck taper/thickness at the 1st fret: 21.5 mm; at the 12th fret: 23.5mm
Overall length: 40"; Scale length: 24.7"
Body thickness: 2" at edge; Width at the widest point: 13"
Bridge pole spacing is 3", and the Tail piece pole spacing is 3 1/4"
Actual Weight is only 10 lbs

Recommended case for this item!
---

Guitar ships new in a double box. Note, this item is "UPS oversize" and ships as if it weighs 30 lbs. Actual weight is only 10 lbs.
---
Your final shipping costs will depend on your location and the items you order. To determine your total shipping cost, please click on the "add to shopping cart" button, and enter your address information. You will have the opportunity to cancel your order after you are quoted a shipping price.
---


Detail of Abalone inalys on all AL-3000M Prestige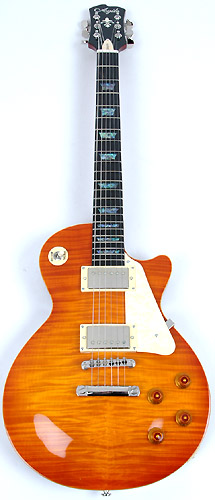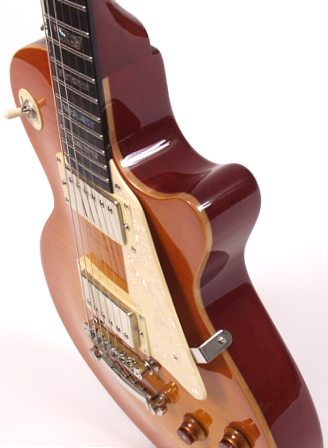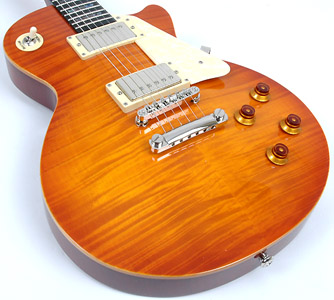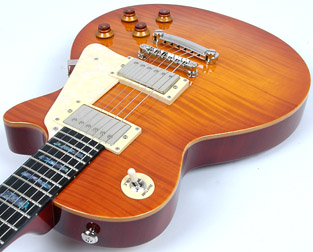 Above is Honey Sunubrst

$299.99