New, Baritone Guitar, with 28" Scale Length!

Perfectly balanced solid Maple body is contoured for comfortable play
Active pickups inclued two humbuckers and a single coil; they help reduce hum and noise by offering superior performance and giving a thicker fuller sound than single coils alone
Two tone and one volume control are recessed into the body
These controls plus a five way pickup selector switch let you create limitless tonal variety!
Angled headstock helps increase the tension of the string on the graphite nut and therefore helps transfer string vibration to the guitar for superior sustain
The Tune-O-Mattic brige with string-thru-body design also helps increase sustain
Increadibly fast Set-In Maple neck
Neck joint is sculpted for comfortable play
24 jumbo frets and Ebony fretboard with adjustable trus rod and Abalone dot inlays
Sealed black Grover tuners with 18-1 ratio for ultra fine tuning (Grover model 102-18B)
Black finish and black hardware create a sleek look
Width of the neck at the nut: 1 5/8"
Scale length: 28"
Tuning on this guitar is B,E,A,D,F#,B
GHS String sizes are 1st: 013, 2nd: 017, 3rd: 026, 4th: 036, 5th: 046, 6th: 060
Actual Weight is only 8 lbs. Guitar measures 41" in total length
---

Guitar ships new in a double box. Note, this item is "UPS oversize" and ships as if it weighs 30 lbs. Actual weight is only 8 lbs.
---
Your final shipping costs will depend on your location and the items you order. To determine your total shipping cost, please click on the "add to shopping cart" button, and enter your address information. You will have the opportunity to cancel your order after you are quoted a shipping price.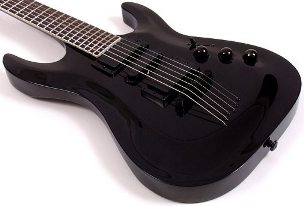 I just received my new Agile baritone that I ordered from you guys last week..it is utterly phenomenal. I was fully expecting that the first thing I'd do was look at buying some EMGs to replace your stock active pickups, but your stock ones sounds great! The tone of the guitar is wonderful, deep, rich yet crystal clear and the workmanship and hardware are impeccable from what I can see. I can't believe I got such a quality guitar for $359...the Agile AB-3500 BK is a phenomenal value that accepts no compromises.
Best regards, Jacek
$399.99